Medicare And Old Workers' Compensation Claims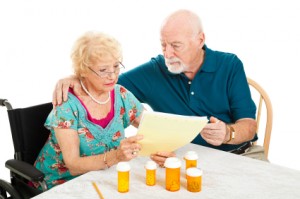 A letter from Medicare is in the mail. The envelope doesn't look much different from others you have received from Medicare. You open it without thinking or much concern.
What it says shocks you.
Medicare (actually an outfit called MSPRC) is alerting you that it no longer will pay for treatment or wants money back for bills they have paid. Why?
Because you filed a Workers' Compensation claim more than ten years ago – it makes no sense to you. The Workers' Compensation claim was for your right leg, the treatment you now need is oxygen for your lungs!
How Could This Happen?
Insurance companies are now required to send Workers' Compensation claim information to Medicare. If:
bills are coded incorrectly by a medical provider
a medical report erroneously says the treatment is for a job related injury
Medicare makes a mistake; or
who knows why
The letter you get may be a:
Rights and Responsibilities Letter (RAR) – The letter informs you that Medicare is aware you have filed a Workers' Compensation claim. Sixty-five days later a Conditional Payment Letter is sent to you (see below)
Conditional Payment Letter (CPL) – This letter specifies what Medicare has paid that it believes are related to your Workers' Compensation claim.
Conditional Payment Notice (CPN) – This letter tells you what you should do if Medicare has paid bills and wants its money back.
Demand Letter (DL) – Medicare tells you that you must repay Medicare for the payments listed in the letter. A Demand letter is issued thirty days or more after the Conditional Payment letter.
If payments are not made within sixty days of the Demand Letter and Medicare does not agree to modify or waive the demand interest is charged from the date of the Demand Letter.
If no payments are made within 120 days of the Demand Letter, an "Intent to Refer" letter will be mailed to you. Medicare may send the matter to the Department of the Treasury for collection from 120 days to 240 days from the date of the Demand Letter.
You or your attorney can request a "waiver" after a Demand Letter is issued even if the treatment is related to your old Workers' Compensation claim. To do so:
you must not be at fault for the overpayment; and
it would cause you financial hardship to repay Medicare .
There also is an appeal process for disputes over more than $130.00.
How to Solve the Problem
The only clear statement that can be made at this time about resolving Medicare/Workers' Compensation disputes is that there is no clarity. However, the first step is to call the Medicare number listed on the form and find out what the problem is. If there is a clear error by Medicare, your phone call may take care of the problem. It is also possible that some documentation from the Workers' Compensation claim and/or your medical providers will be required. The issues will be more complicated if the new treatment is for the same part of your body that was the subject of your Workers' Compensation claim. The argument is, for example, that a back strain of ten year ago could not possibly be related to a need for back surgery now. It is possible medical records will be required to support that position, and/or a hearing before the Workers' Compensation Commission to determine whether the treatment is related. Even then, Medicare may not agree to be bound by a Commission decision.
The Bottom Line
The only sure thing to say about Medicare and Workers' Compensation claims is that nothing is sure. Rules and procedures change. Simple issues may be resolvable without an attorney, more complex ones, perhaps not.
By Ken Berman