What Should I Do If I'm In A Car Accident While Working?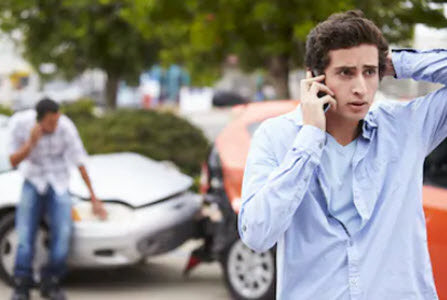 Talk about a bad day on the job. Often, it's enough of a struggle to make it through the day at work without having to deal with a car accident. You may be worrying that you will be fired, or have no idea what steps to take next. The best course of action for you to take in this situation depends on your employment classification, as well as if the other driver negligently caused the accident. In this article, we'll review the possible courses of action you can take, however, the best way to make sure that you are getting information that is relevant to your particular case is to speak directly to an experienced Maryland personal injury and workers' compensation attorney.
What to do if you are an employee
If you are classified as an employee in Maryland, you are likely covered by your employer's workers' compensation insurance. If you are an employee and are involved in a car accident while carrying out a work-related duty for your employer, such as a FedEx driver making deliveries, you should contact an attorney and file a workers' compensation claim with your employer immediately. Generally, you do this by notifying your supervisor of the incident and any injuries you have suffered. If you notify them verbally, make sure to also follow up in writing. This will allow you to seek medical care and will provide you with full or partial wage replacement if you need time off of work to recover. Ordinarily, workers' compensation coverage bars employees from bringing lawsuits against their employers when they are injured. However, when it is a non-employer third-party who causes your injury, you do have the option to bring a personal injury lawsuit against the at fault party in addition to filing a workers' compensation claim. Unlike workers' compensation though, in order to recover through a personal injury lawsuit, the other driver must be the liable party and must have been negligent in causing the accident. This can be a complicated situation to navigate, so it's best to consult with a personal injury attorney.
What to do if you are an Independent Contractor
If you are an independent contractor you do not qualify for workers' compensation benefits from your employer. Even if your employer identifies you as an independent contractor – you should consult with an experienced workers' compensation attorney, as each situation is different and the process for determining independent contractor v. employee is complicated one. Regardless of employment status, be sure to get their license, registration, and insurance information at the scene, and to take photographs of the accident and the damage. If you've suffered an injury, it's a good idea to consult with a lawyer.
Schedule a Consultation with Berman, Sobin, Gross, LLP 
If you have been injured in a car accident on the job in Maryland, you do not have to navigate the process alone. Whether you need assistance getting the workers' compensation benefits that you are legally entitled to, bringing a personal injury lawsuit against a negligent party, or both, the experienced Maryland workers' compensation attorneys at  Berman, Sobin, Gross, LLP are ready to fight for you. Contact us today to schedule a consultation.