T-Bone Accident Injuries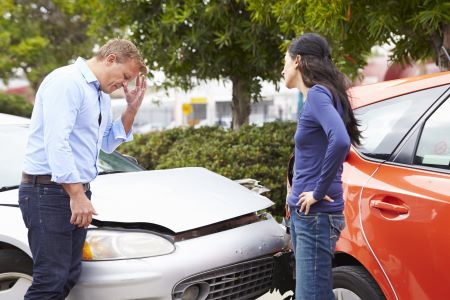 T-Bone accidents, also called side-impact collisions, can have devastating effects for drivers and passengers. Vehicles are not as protected on the sides as they are from the front and back, so vehicle occupants can be far more vulnerable to injury and even death when struck from the side. This can result in serious injuries and tens or even hundreds of thousands of dollars in medical bills and treatment costs. Few people are able to afford the level of required care without seeking legal remedies, such as a personal injury claim, to recover for their damages.
Common T-Bone Accident Injuries
The most common T-bone accident injuries include trauma to the head, neck, skull, and spine. Traumatic brain injuries are often cited as the most common injury caused by this kind of collision. This is particularly true when the impacting vehicle is larger than the vehicle that is impacted. For example, if a truck or SUV were to hit the side of a standard-sized sedan, the bumper or the truck or SUV is likely to be level as the head of the occupant. This greatly increases the chances of fatality, as well as head-related injuries such as traumatic brain injuries. Traumatic brain injuries generally occur due to a rapid jerking motion that causes the brain to impact with the skull. This jerking motion is likely to occur during a collision of this type. Other injuries that victims of these kinds of accidents experience include chest trauma, broken ribs, and other injuries particular to the upper body, such as broken or fractured bones, lacerations, and organ damage.
Damages for a T-Bone Accident
The amount that your T-Bone accident claim is worth depends on the extent of your injuries. Assuming that the other driver is found liable for causing the accident and negligent for causing your injuries, you can recover damages for all costs incurred as a result of the collision. This includes medical bills, treatment costs, the cost of medication and transportation to and from doctor's appointments, as well as reimbursement for lost wages. You can also seek compensation for pain and suffering caused by the accident. Generally, the more severe and permanent your injuries are, the higher your damages will be. Because there are so many factors involved, the best way to get an accurate idea of the value of your claim is to speak directly to an experienced Maryland personal injury lawyer.
Talk to Berman, Sobin, Gross. LLP
If you have been seriously injured in an accident that was not your fault, the experienced Maryland personal injury attorneys at Berman, Sobin, Gross, LLP are ready to fight to make sure you get the compensation that you are entitled to. Contact us today to schedule a consultation.