Maryland Workers' Compensation Book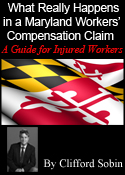 I apologize if this appears to be shameless promoting of a new book that I just wrote. But, if you were injured at work in Maryland while working for someone other than the Federal Government then this short book is for you.
I wrote it for injured workers – not lawyers. It is basic and practical – not complex and nuanced. I hope to replace any fears and uncertainty you may have with knowledge and understanding. I want you to know how long things take, why things happen, and what to expect. It is not a replacement for obtaining legal advice from an attorney, but instead is a supplement to help educate and insulate you from some of the surprises that otherwise may come your way.
I have represented thousands of injured workers in Maryland over more than thirty years. I wrote and continue to update a 1400 page two volume workers' compensation legal treatise for Maryland lawyers. I taught attorneys Maryland Workers' Compensation law, testified before the Maryland Legislature on many proposed Workers' Compensation bills and continue to speak at many Union meetings concerning the "nuts and bolts" of Maryland Worker's Compensation.
Now, I want to help you. If you want to know:
What to do if you need medical treatment as a result of your injury.
How much the insurance company will pay you while you are unable to work.
What happens if you are physically unable to ever return to the type of work you were doing.
How much money you will you receive at the end of your case.
The role of an insurance company in a workers' compensation case.
If you should hire an attorney and what will it cost.
If you have to go to a doctor chosen by the insurance company for an evaluation and what will happen when you go.
If you have to speak to the nurse case manager when she calls or the vocational counselor who keeps telling you what to do.
Why is your check late.
Why won't the insurance company approve your treatment right away.
Why your medical bills are often not paid timely.
If private investigators are used by insurance companies.
What happens at a Maryland Workers' Compensation hearing.
How long it takes to get a hearing.
How evidence is presented.
How long takes to get a decision.
Your appellate rights.
Then this book is for you. You can get if for free by downloading a PDF from my law firm's web site, www.marylandworkerscompensationlaw.com. Or you can purchase a Kindle version from Amazon at & the following link: KindleEbook.
By Clifford B. Sobin, Esq.