Dos and Don'ts When Applying For Workers' Compensation Benefits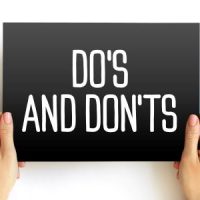 On-the-job injuries and illnesses can have major impacts on your health and your ability to provide for yourself and your loved ones. Workers' compensation benefits in Maryland help ensure you are provided for in the aftermath, compensating you for lost wages and other costs you incur as a result.  Our Maryland workers' compensation attorney shares important dos and don'ts when filing a claim.
What To Do When Work-Related Injuries Or Illnesses In Maryland Happen
According to the state Department of Labor, close to 60,000 people are injured on the job in Maryland each year. Occupational diseases are also a hazard, particularly if you work in certain types of industries or routinely handle dangerous substances.
Workers' compensation benefits can help offset the lost income you suffer during the recovery process while also ensuring you get the medical care you need. You may also be entitled to payments in the event you suffer from long-term disabilities that prevent you from working or performing certain types of job tasks. The following are important 'dos' in filing a claim:
Do report any type of accidental injury or illness to your boss or supervisor immediately.
Do get immediate medical care and follow your doctor's instructions regarding treatment and work or activity restrictions.
Do follow up with your employer to ensure a workers' compensation claim is filed in your case.
Do respond promptly to any communications you receive from workers' compensation, including requests for additional information.
Do contact our experienced Maryland workers' compensation attorney.
What Not To Do When Job-Related Injuries Or Illnesses Happen
Benefits available through the Maryland Workers' Compensation Commission can provide a lifeline for people who suffer job-related injuries or illnesses. In addition to taking the steps listed above to protect your rights to benefits, there are some things you should be careful not to do when filing a claim. These include:
Do not discuss your accident, illness, or injury with anyone other than your doctor: Avoid discussing your situation with co-workers or friends.
Do not post on social media while applying for or receiving benefits: Information you provide about your activities can be used to deny or dispute your claim.
Do not return to your job prior to being cleared by a doctor: Returning to work too soon can jeopardize your health and impact your rights to current and future workers' compensation benefits.
Do not hesitate to get legal help in filing a claim: Having an experienced workers' compensation attorney on your side can help to avoid disputes while ensuring you get the maximum benefits you are entitled to in the quickest amount of time possible.
Contact Our Maryland Workers' Compensation Attorneys Today
On-the-job injuries and illnesses can leave you unable to work while facing major medical expenses. At Berman | Sobin | Gross LLP, we provide the trusted legal guidance you need in filing a claim. To request a consultation with our experienced Maryland workers' compensation attorney, call or contact our office online today.
Sources:
wcc.state.md.us/
dllr.state.md.us/labor/research/research2017.shtml