Charles Schultz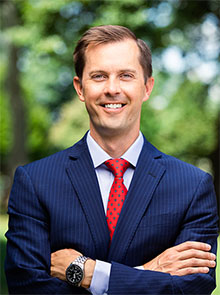 Partner
About Charlie
Charlie is a Maryland native – coming up in Carroll County. After spending four years out of state while attending college in Morgantown, West Virginia (Go Mountaineers!), he returned to Maryland to obtain his law degree from the University of Baltimore. Charlie spends his free time exploring and adventuring with his wife and three children who share his love for the outdoors and experiencing new places. Outside of his family, he enjoys mountain biking above all else – an exhilarating way get away from it all.
Professional Experience
In 2011, Charlie started his legal career as a defense attorney, handling the workers' compensation cases for Prince George's County Public Schools. In 2015, Charlie joined Berman, Sobin, Gross LLP and has never looked back. As an attorney representing those injured in the line of duty, he has found a passion in helping people to get back on their feet and return to providing for their families. He takes pride in representing some of the hardest working members of our community – police officers, fire fighters, nurses, educators, drivers, laborers, union workers of all kinds, and more.
The majority of Charlie's practice is devoted to representing police officers and fire fighters, as a result, he has exceptional knowledge and experience with pursuing claims unique to those members of our community such as claims for: cancer, heart disease, hypertension, lung disease and hearing loss.
He loves the fight of the case – hearings, jury trials, appellate arguments – each one offers an opportunity to do better for his clients. Not just helping people to "win" their case, but developing lasting relationships with his clients is what makes representing injured workers rewarding.
Areas of Practice
Workers' Compensation
Negligence
Motor Vehicle Accidents
Bar and Court Admissions
Maryland State Bar
United States District Court for the District of Maryland
Education
University of Baltimore School of Law, Juris Doctorate
West Virginia University, Bachelor of Arts
Associations
Maryland State Bar Association
Super Lawyers/ Rising Stars – 2018-2023
Police Emerald Society of Baltimore
Press
Sean Suiter Press Conference
Client Feedback
Charlie did exceptional work with two worker's compensation cases that I had to claim within a year. For instance, since late 2020, Charlie managed to bring strong arguments to Maryland's Workers Compensation Commission both times through hard times during Covid restrictions. Additionally, he treated me with respect and strongly advocates for police officers like myself. Overall, I showed my gratitude by recommending his services to other police officers who faced similar issues at work. – Tony

My experience with Mr. Schultz was exceptional! I highly recommend Charlie Schultz, an excellent lawyer with Berman/Sobin/Gross. Mr. Schultz helped me during my difficult journey of seeking compensation for my work injury, and also went above and beyond to make sure I was well taken care of and received the best care.

Mr. Schultz was very personable and gained my trust upon our first consultation. Additionally, he has the experience and insight to work things out in your favor.
I am pleased to recommend Charlie Schultz, if you have a work related injury, He is your Guy!! – Rakeem

Mr. Schultz is an amazing attorney. He will fight for you until the end. He was able to get me the best settlement possible. It was a pleasure to have Mr. Schultz and his firm represent me in my case. – Dane

I had an excellent experience in dealing with Mr. Schultz, he listened to my issues, and kept me informed during the complete process. Charlie's knowledge and ability to work within the system greatly helped me to reach a fair and equitable decision. – Mark

Charlie has been there for me every step of the way. His commitment to making sure I deserve what I am entitled to has been far and beyond. I would recommend Charlie for any of your lawyer needs. Thank you Charlie Schultz! – Diana

My attorney, Charles Schultz, consistently demonstrated the characteristics of an excellent legal advocate throughout the workers' compensation process; he was compassionate, a great communicator, and exemplified highly effective knowledge and practice of Maryland's Workers' Compensation Law(s). – Margaret

Charles was extremely helpful from the very start. He took time to listen through the details of my incident and provided consultation on the best way to proceed. I truly believe he had my best interest at the forefront during the duration of my case. He spent much time working to getting me the care I needed and I am satisfied with the outcome of my case. I 100% recommend Charles Schultz and his team! – Lauren

This was my first time needing a lawyer in my life, and the entire experience, because of Charles and the helpful people they have in the office, was amazing from start to finish. I know people have heard horror stories of lawyers, but Charles really seemed to care about me and making sure I was taking care of. Very much appreciated the help I received and would recommend you call Charles as your first stop for help. – Ross

Very personable, caring, and easy to work with. If you are looking for an attorney Mr. Schultz is the way to go. – Jacky