I Was In A Car Accident, Should I Call A Lawyer?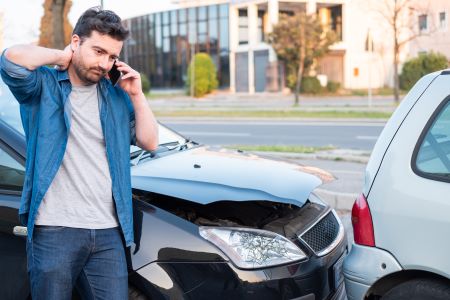 Many people think there is some threshold of severity that must be reached in a car accident before they can call a lawyer. Maybe they think they should only call if their car is totaled or if they have to go to the hospital via ambulance.  They are wrong; any time you are injured in a car accident, you should consult with an attorney, no matter what the property damage is like, and independent of whether you go to the hospital.  Often, people's symptoms are worse the next day.
Delayed Pain and Invisible Injuries
The reality is that there is no such thing as a minor accident. There are, of course, accidents that have comparatively less damage than others. However, even low-speed accidents exert an incredible amount of force on your body. Your body can experience physical trauma, even when it is not as visible as a broken bone. In fact, serious and even life-threatening conditions can have no outward signs. For instance, internal bleeding and hemorrhage, traumatic brain injuries, and organ damage can all occur even at relatively low speeds and depending on the health conditions and any blood-thinning medications the occupants may be taking. These conditions will not be apparent in the immediate aftermath of a crash. Likewise, non-life-threatening, but still serious conditions, such as whiplash and soft tissue (connective tissue) injuries to the back, spine, and neck, may take several days following an accident to become apparent. Many people think that minor aches and pains they feel immediately after an accident will go away after a day or two, but usually just the opposite happens and it begins to become apparent that what they assumed were minor aches and pains are indicative of a much more serious injury.
Why Call a Lawyer
All car accidents are likely to be stressful and the insurance process can be difficult to navigate. Plus, the insurance adjuster is not your friend, no matter how nice they may seem; it is their job to pay you as little as possible. They may seem like they are trying to help, they are not on your team. One tactic that insurance adjusters use is to pressure you to accept a settlement offer as soon as possible following the accident. They do this because they know that there is no way for you to know immediately after the crash what the full nature and extent of your injuries are and how much it will cost to treat them. Having a lawyer on your side helps level the playing field and ensures that you will not be ripped off or pressured to accept a low offer before you know the full extent of your injuries, how they will affect your life, and how much it will cost to treat them.
Schedule a Consultation
If you have been injured in a car accident, you do not have to navigate the process alone. Call the experienced Maryland personal injury attorneys at Berman | Sobin | Gross LLP and schedule your free consultation today.