Have You Been Injured At A Maryland Hotel?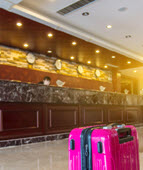 Everyone loves a relaxing getaway, and staying in a hotel is usually a treat, but what happens when your weekend away ends in a serious injury? If you've been injured at a Maryland hotel, you may be wondering what your rights are and what options you have for moving forward. The good news is, you don't have to navigate this process alone. Talking to an experienced Maryland personal injury lawyer can be a huge relief. A lawyer will be able to assess the facts and circumstances of your case to determine the best course of action and how to fight for the maximum possible recovery. The information in this article is intended to be general. However, if you would prefer personalized feedback based on your individual case, you are encouraged to contact the attorneys at Berman, Sobin, Gross,  LLP to schedule a consultation.
Can I Sue a Hotel for my Injuries?
Hotels have a duty of care to guests, and when they breach that duty by acting negligently or recklessly, they become liable for any harm that occurs as a result. Whenever you are trying to determine whether the hotel is at fault, the question to ask is whether the hotel was negligent. Hotels will only be liable in situations where negligence or recklessness on the part of the hotel or its employees caused the harm to the guest. For instance, a hotel is not liable for random accidents that happen inside of it. A person can trip over their own feet in a hotel lobby, and the hotel would not be liable. However, if the hotel has any known hazards, the staff have an obligation to remedy the hazard or warn of it. This is why you see "wet floor" signs, and signs warning you to "watch your step." If the hotel does not take prompt action to remedy a hazard or warn guests of it, and it results in an injury, they will likely be found negligent. This can be the case in slip-and-fall injuries, which are very common at hotels, particularly by pools. If the hotel does not have a sign cautioning guests of the slippery pool deck and someone slips, the hotel may be liable. If the hotel had a sign but it was hard to read, or there was no way to avoid the slippery pool deck, they may still be found liable.
In another situation, if there is an assault that takes place in the hotel, the hotel may be liable if it is found that they were lacking appropriate security precautions or that their existing precautions fall short of what would be considered "reasonable care" in the hospitality industry.
Common Hotel Injuries
It goes without saying that just about any injury is possible in a hotel. However, the most common hotel injuries tend to be slip-and-fall injuries. These accidents can occur while people are walking into or out of the hotel, up or down stairs, stepping out of an elevator, on a slippery surface (like pool decks, stepping out of the shower, or a floor where someone spilled something), and anywhere where there are uneven surfaces. Burn injuries are also surprisingly common at hotels. Guests often suffer serious burns from showers in their rooms due to poorly regulated or improperly maintained water thermostats. Burns can also occur due to malfunctioning coffee equipment and restaurant accidents. Another common hotel injury is bed bugs, which can cause painful, itchy skin reactions which may require medical treatment.
Talk to a Maryland Personal Injury Lawyer
If you have been injured while staying at a hotel, the experienced Maryland personal injury lawyers at Berman, Sobin, Gross,  LLP are ready to help. Contact us today to schedule a consultation and find out how we will fight to get you the compensation that you are entitled to.