Common Causes Of Intersection Collisions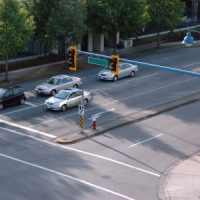 Nearly half of all traffic accidents take place at intersections. This makes sense given that there is a lot going on at these traffic junctures. A wrong move by one driver can throw an entire intersection into chaos and disarray. Drivers, pedestrians, motorcyclists, and bicyclists, all face serious dangers each time they arrive at an intersection. If you have been involved in an intersection accident in Maryland that was caused by someone else's negligence, you may be facing high medical bills and feel unsure of who to turn to for support. For many people, the best way to get their life back on track is by bringing a personal injury lawsuit. In this article, we'll talk about some of the most common causes of car accidents as well as what you can do if you have been in one.
Causes of Intersection Collisions
Speeding through intersections and running red lights. Intersections involve a lot of moving parts that are perfectly timed to ensure that all pedestrians and drivers at the intersection will be safe. When a driver speeds through a red light, they put everyone at the intersection, including themselves, in danger. They may hit pedestrians who have been told it is safe to cross the street, or hit the side of a car that is making a left-hand turn or crossing the intersection. As a driver, it is important to always come to a slow stop when the light turns yellow, and not to try and beat yellow lights or speed through intersections.
Left-hand Turns. Left-hand turns are dangerous for drivers because it requires the vehicle to be vulnerable to oncoming traffic. If everyone is following the rules and traffic signals, this should not be a problem. However, if a driver is speeding through a red light, they may impact the side of the turning vehicle, causing serious harm to themselves and the other vehicle's occupants.
Wrong-way drivers. A wrong-way driver can wreak serious havoc in an intersection. Going the wrong way may put other drivers at risk, and leave the wrong-way driver with nowhere to turn or correct their direction safely. Wrong-way driving can be caused by confusion but it is also commonly caused by driving under the influence or distracted driving, which are accompanied by many of their own inherent risks.
Crossing intersections. Crossing an intersection can be nerve wracking because it is not always clear exactly where to go, and confusion can lead to wrong-way accidents or driving into oncoming traffic. Crossing an entire intersection also leaves the crossing vehicle vulnerable to collision by speeding drivers who are running red lights or illegally making right-hand turns.
Bringing a Claim for an Intersection Accident
If you have been injured in an intersection accident, you may have standing to bring a personal injury lawsuit if the accident was caused by another driver's negligence. In addition to showing that the other driver was negligent, you will have to show that you suffered physical and financial injuries. If your claim is successful, you will be able to recover damages for all injuries and expenses caused by the accident, including compensation for pain and suffering.
Contact Berman | Sobin | Gross LLP
If you have been injured in an intersection accident caused by someone else's negligence, the experienced Maryland personal injury attorneys at Berman | Sobin | Gross LLP will fight to get you the compensation that you are entitled to. Contact us today to schedule a personalized consultation.
Source:
safety.fhwa.dot.gov/intersection/about/