Ken Berman and Charlie Schultz were Honored to Present at the 2023 MWCEA Conference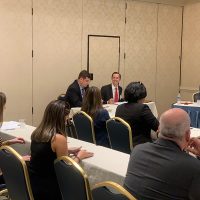 Kenneth M. Berman and Charlie Schultz were honored to present this week at the Maryland Workers' Compensation Educational Association (MWCEA) Annual Conference. Charlie spoke about the best tips for handling workers' compensation cases and participated in several mock hearings. Ken presented on new case law and appellate advocacy.
Congratulations to the MWCEA on another successful conference! We learned a lot and had a wonderful time bonding with our team and our colleagues.