Intersection Hazards That Increase Maryland Car Accidents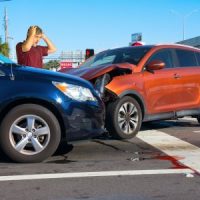 Maryland car accidents pose major personal injury risks, and one of the most common places for them to happen is intersections. Red light running and other dangerous driving behaviors make crashes and collisions at these locations more likely to occur. Our Maryland car accident attorneys offers some simple tips that can help keep you and others on the road safe.
Stop On Red
Stop On Red Week is an annual event held each August by the National Coalition for Safer Roads (NCSR). It raises awareness of the risks of red light running and offers tips to help drivers reduce the risks.
Disregarding traffic signs and signals is one of the leading causes of intersection car accidents in Maryland. They can result in rear-end, head-on, or t-bone accidents, all of which are capable of causing victims severe and potentially life-threatening personal injuries. Intersection accidents also pose major risks to bicyclists and pedestrians involved.
As part of Stop On Red Week, the NCSR partners with other national, state, and local traffic safety officials to raise awareness of the hazards. Ways you can reduce your risks:
Avoid speeding up to get through a yellow light;
Come to a complete stop at red lights and stop signs;
Be aware of other motorists, bicyclists, or pedestrians waiting at intersections;
Proceed with caution once the light changes to green and watch for other drivers engaged in red light running.
Other Ways To Reduce Intersection Car Accident Risks
The Maryland Department of Transportation warns drivers to be cautious when approaching any intersection. Be particularly alert during adverse weather, when local traffic signals may be out-of-service or otherwise not functioning properly.
If you approach a light that is not working or one in which the red light is flashing, treat the situation similar to how you would at a stop sign. Come to a complete stop, yield to any drivers who may have stopped before you, and use extreme caution when passing through the intersection.
Even if traffic lights are fully functioning, there are still certain steps you should take to help reduce intersection car accident risks. These include:
Avoid tailgating, improper passing, and other aggressive driving behaviors;
Never assume another driver sees you or will stop;
Pay attention and avoid distractions whenever you are on the road;
Avoid driving under the influence of alcohol, recreational drugs, or certain types of medications.
Request A Consultation With Our Maryland Car Accident Attorneys
Car accidents are a leading cause of personal injuries in Maryland, and intersections are one of the most common places for them to happen. When the reckless actions of other motorists are to blame, Berman | Sobin | Gross LLP helps victims and their families get compensation.
Our Maryland car accident attorneys protect your rights and provides trusted legal guidance through the process of filing a claim. Call or contact our office online and request a consultation today.
Sources:
ncsrsafety.org/stop-on-red-week-2023/#:~:text=National%20Stop%20on%20Red%20Week,related%20to%20red%2Dlight%20running.
roads.maryland.gov/mdotsha/pages/pressreleasedetails.aspx?PageId=818&newsId=1254