Slip-And-Fall Construction Site Accidents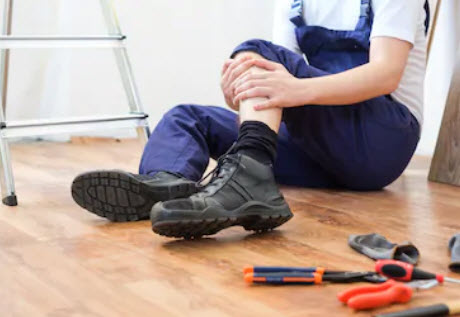 Construction is one of the most dangerous industries that a person can work in, presenting countless daily hazards, including heavy equipment, falling objects, large debris, and uneven ground. Nearly 250,000 workers suffered injuries requiring time off of work as a result of slip-and-fall accidents last year, and many of them worked in construction. If you are a Maryland construction worker that has been injured on the job, you may be unsure how to get the coverage that you are entitled to–or even about what you are entitled to. Not to worry, we are here to answer your questions. If there are any questions that are not answered here, or if you would like a personalized consultation based on the specific facts and circumstances of your case, you are welcome to reach out to our experienced lawyers to schedule an appointment.
What Should I Do If I'm in a Slip-and-Fall Accident at Work?
What you should do after a slip-and-fall accident depends in part on what your employment classification is. If you are an employee, you are entitled to medical care and other benefits through workers' compensation, however, you are also barred from bringing a lawsuit against your employer. There is a possible work-around here if a non-employer third-party caused or contributed to your accident. In that case, you can file for workers' compensation with your employer by notifying a supervisor immediately after the injury. You can also contact a lawyer to identify other potentially liable parties and hold them accountable with a personal injury lawsuit. On the other hand, if you are an independent contractor you will not be entitled to workers' compensation benefits, but you are also not barred from bringing a lawsuit against your employer. The only catch is that unlike a workers' compensation claim where you just have to show that you were injured while at work, a personal injury lawsuit requires the independent contractor to also show that their employer was negligent in causing or contributing to their injury. It is also possible that if you are classified as an independent contractor, you are classified inaccurately. Employers often intentionally misclassify employees as independent contractors in order to avoid liability for their injuries. A lawyer can easily assess the facts of your employment to determine your correct classification and take action if necessary to correct it. If you are unsure about your employment classification or require guidance on how to proceed, it is always a good idea to consult with a Maryland personal injury lawyer.
Schedule a Consultation with Berman, Sobin, Gross LLP 
If you are in construction worker in Baltimore, Frederick, Gaithersburg, or the greater Maryland area, who has been seriously injured in a workplace accident and are struggling to get the benefits and compensation that you are entitled to, the Maryland workers' compensation attorneys at Berman, Sobin, Gross, LLP want to hear from you. We will fight to get you the maximum amount of compensation that you are entitled to. Contact us today to schedule a consultation.
Resource:
nsc.org/work-safety/safety-topics/slips-trips-falls