Boat Accident Injuries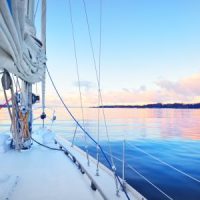 Maryland is one of the most beautiful states to spend time in during the summer. With countless options for swimming, boating, and skiing on the Chesapeake Bay as well as other lakes and rivers, Maryland is a hot spot for watersports and water-based recreational activities. However, with fun, of course, comes an increase in risk. Boating accidents are far too common during the summer months, and can have devastating consequences, including debilitating injuries, drowning, decapitation, and death. If you have suffered an injury as the result of a boating accident that was not your fault, you may be facing hundreds of thousands of dollars in medical bills and related expenses. For many such victims, the best way to recover is to bring a personal injury lawsuit.
Can I Sue if I was Injured in a Boating Accident?
Not every boating accident injury creates cause for a lawsuit. Sometimes, accidents and injuries are unavoidable even if all proper laws are followed and precautions adhered to. However, if you were injured as a result of someone else's negligence, you have grounds to bring a personal injury lawsuit to recover for any damages suffered as a result. In other words, if your injury would not have happened if not for someone else's negligence, you can bring a personal injury lawsuit.
Elements of a Boating Accident Lawsuit
In order to bring a successful lawsuit for a boating accident injury, you will have to demonstrate that another party was negligent in causing your injury. Negligence occurs when the duty of reasonable care is breached. All boaters on the water owe a duty of reasonable care to passengers and other boaters. This duty is breached when they break laws and regulations, such as by boating under the influence of drugs or alcohol, speeding, lacking the required amount of life jackets and safety equipment (such as flares and a flashlight), or boating recklessly. Once you have established that the other party was negligent, you must also be able to show that their negligence was the direct cause of your injury. If their negligence was unrelated to the accident, it will not suffice for this purpose. You will also have to be able to establish that your injury was both physical and financial. This can be shown with medical records and bills.
Damages for a Boating Accident Injury
If your personal injury claim is successful, you will be entitled to damages for all costs incurred as a result of the accident, including medical bills, lost wages, reduced income or earning potential, and transportation to and from doctor's appointments. It is important to keep a careful record of all expenses during the process to make sure that the economic damages you receive are accurate. You are also entitled to damages for pain and suffering.
Contact Berman | Sobin | Gross LLP
If you have been injured as a result of a boating accident, the experienced Maryland personal injury attorneys at Berman | Sobin | Gross LLP are ready to fight to get you the maximum amount of compensation that you are entitled to. Contact us today to schedule a consultation and find out how much your claim may be worth.
Source:
dnr.maryland.gov/boating/Documents/recreationvessels.pdf