BSG Selected as Best Law Firms in Maryland for 2023 by U.S. News & World Report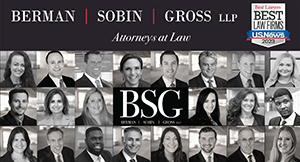 Berman Sobin Gross LLP was selected again by Best Lawyers and U.S. News & World Report in their 2023 "Best Law Firms" report. BSG was recognized with top rankings in workers' compensation and personal injury law for plaintiffs.
To be eligible for consideration, a law firm must have at least one attorney recognized in the current edition of Best Lawyers in a "Best Law Firms" ranked practice area / metro area.
For 13 years, Best Lawyers and U.S. News and World Report have granted these honors to attorneys nationwide. This year 15,825 attorneys were ranked in 188 metropolitan areas and 127 practice areas. Tier 1 rankings include 9,787 metropolitan firms and 571 national firms. 2023 is the 12th year that Best Lawyers has bestowed the honor of "Law Firm of the Year," awards encompassing 75 practice areas.
To learn more about these rankings and the "Best Law Firms" process, please visit the website: https://bestlawfirms.usnews.com/profile/berman-sobin-gross-llp/overview/76246