I-95 Chain Reaction Accident Leaves Maryland Teen Dead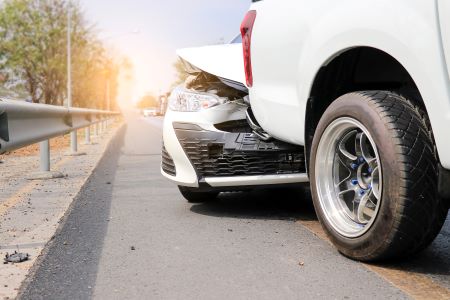 Jordan J. Callicutt, a 19-year-old up-and-coming rapper from Waldorf, Maryland and a father to a young daughter with a son on the way, tragically lost his life this past month, when the Chevy Impala he was traveling in was involved in a terrible accident on I-95 which left four dead and three others injured. According to police, the accident occurred by the exit for Chamberlayne Avenue, in Henrico County, and the damage and injuries were so extensive that it required shutting down the southbound lanes of the interstate for nearly 12 full hours while police investigated and crews cleaned up the debris.
According to police reports, the Impala Callicutt was traveling in was traveling north on I-95, but for unknown reasons, crossed into the southbound lanes before colliding with a guardrail and a 2020 Tesla, which then collided with a parked (and thankfully unoccupied work van). The Impala then overturned and came to a rest in the southbound lanes. All five passengers inside of the Impala, including Callicutt, were ejected from the vehicle during the crash. Four of the occupants died at the scene, while one was transported to a local hospital with life-threatening injuries. It is not known at this time whether they were wearing seatbelts, but given the ejection, it seems unlikely. There were two occupants in the Tesla, both of whom were transported to hospitals for treatment, but their injuries are not currently believed to be life threatening. There was a german shepherd that escaped during the crash and initially could not be located, but it was later found by the Sheriff. The van was parked while a work crew collected cones nearby. None of them were injured in the crash.
The police are currently working to identify the remaining victims of the crash and are having a hard time. They are asking anyone with knowledge of their identities or of the events of that night to come forward with information. Police found two guns at the scene of the crash, and witnesses reported hearing a gunshot prior to the accident occurring. Police are not currently sure whether a gunshot could have been related to the collision, but it could explain what caused the Impala to lose control and cross lanes into oncoming traffic. The investigation into this accident remains ongoing, and appears to have the potential to become quite complex.
Determining Liability in Chain-Reaction Collisions
Chain-reaction collisions are all too common on highways, where vehicles travel at high speeds and often do not have enough room to quickly correct for an unexpected obstacle, like a stopped vehicle or overturned truck. It can be complicated to determine liability in these cases because there are so many vehicles involved and almost all of them are limited by their own perspective. It is not uncommon for a determination of liability in a complex chain-reaction collision to take several months, which can be very frustrating for those suffering injuries and damage as a result of the accident, waiting on an insurance payout. In determining liability, the insurance company will look to the driver whose actions initiated the chain-reaction. For instance, if a driver of a sedan cut off a semi-truck, causing it to slam on its brakes, and provoking a chain reaction of rear-end accidents behind it, the liable party would likely be determined to be the sedan that cut off the semi-truck. However, if other drivers were also being reckless or negligent in ways that contributed to the crash, they can also be allocated a portion of the liability.
Talk to an Attorney
If you have been injured in a car accident, you do not have to navigate the process alone. Contact the experienced Maryland car accident attorneys at Berman | Sobin | Gross LLP today to schedule a free consultation.
Resource:
wric.com/news/local-news/maryland-teen-killed-in-i-95-chain-reaction-crash-wednesday/