Avoiding Bad Weather Accidents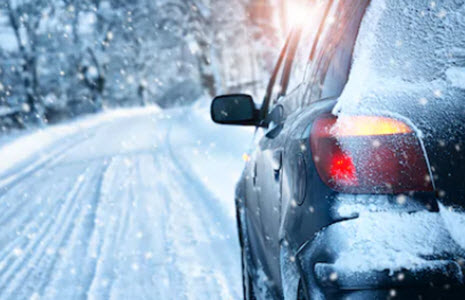 Winter can be a beautiful but deadly time of year. Wintry conditions like sleet, hail, ice, and snow, all compromise driving conditions and increase the risk of a potentially fatal accident. While some things are outside of our control, there are thankfully still some precautions and measures that can be taken to ensure that you drive as safely as possible, even in slippery or poor conditions.
5 Tips for Safe Winter Driving:
Get your car checked. Have a thorough inspection of your car, tires, and windshield wipers. If tire treads are too worn down, it will make it even harder for the tires to make and maintain contact with the road. Additionally, most people do not know that windshield wiper blades should be replaced every 6-12 months. In other words, windshield wiper blades are designed to last one winter before being changed.  Keeping them on longer can result in disintegration of the blades and poor to no visibility in bad weather conditions.
Turn on your lights. Heavy rain, sleet, snow, and hail can all significantly decrease visibility, even during the day.
Slow down. The slower you drive, the greater amount of surface area your tires will maintain with the ground. When the ground is being covered in snow particles, slowing down compensates for the lack of available surface area to provide fiction.
Use your hazards. The best way to ensure that you are seen by other drivers is to turn your hazard lights on and drive slowly. If you decide to pull over, it is critical that you keep your hazard lights on.
Wear a seatbelt. Studies show that in snowy accidents, wearing a seatbelt reduces the risk of fatality by 45%. That means that just by buckling your seatbelt, you increase your odds of survival nearly 50%.
What to do if You're in an Accident
In the immediate aftermath of the accident, it's important to assess your own well-being and that of your passengers. Ensure that you call the police and take photos of the damage to your vehicle and the other vehicle. It is important to get the driver's license plate number, license, and registration information. A good way of making sure that you don't make any errors in transcribing it so take photos of the license plate and all relevant documents. It is also a good idea to get the names and contact information of anyone who witnessed the accident.
If you have been injured in a car accident that was not your fault, you do not have to carry the burden alone. It is a good idea to consult with a Maryland Personal Injury lawyer, to determine the best course of action to seek compensation for your injuries, pain, and suffering. When you speak to the police, report any physical discomfort you are experiencing at all, even if you're not sure it's anything serious. It's also critical that you see a doctor immediately after the crash. If you wait, the other party can claim that any injuries happened in the interim and were not caused by the crash. At the doctor, make sure to report anything that feels different or painful so that there will be documentation if it evolves into a more serious injury later.
Contact a Personal Injury Lawyer
If you've been injured in a car accident that was not your fault, we want to help you get the compensation you deserve. The Maryland car accident attorneys at Berman | Sobin | Gross LLP, are ready to fight for you. Schedule a free consultation today.