Ken Berman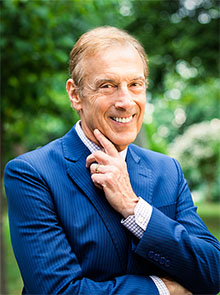 Founding Partner
About Ken
Ken has many varied interests outside of the law. In addition to travel and hiking, he is an avid reader, boxes and takes yoga for exercise and release, and studies ancient texts for insightful meanings. He has a wife of 30 years who runs her own business, and two sons, one a COO and entrepreneur and the other music engineering whiz who founded a music artist promotion company.
Ken brings his "better way" focus to his life, his work and his family. Family dinners are legendary, lively – often raucous – affairs where new, inventive and better ideas are raised, discussed and debated.
Professional Experience
Ken is a founding partner of Berman | Sobin | Gross LLP. From Maryland Workers Compensation cases small and large, to multi-million dollar Personal Injury trials, Ken advocates, and consistently achieves winning results, for his clients.
Ken has been instrumental in the passage of many pieces of legislation that have expanded the rights of fire fighters as well as other injured workers. He testifies regularly before the state legislature in Annapolis on pending Workers' Compensation laws. He served on the Maryland Governor's Study Commission on Workers' Compensation Legislation and was Chairman of the Workers' Compensation section of the Maryland Association of Justice.
In Medical Malpractice cases in Maryland, DC and Virginia, Ken has advocated creatively and received extremely favorable results for his clients with respect to the following circumstances:
Surgical fires
Cardiac catheterizations
Misdiagnosis of cancer
Failure to diagnose bowel obstruction
Surgical errors
Decubitus ulcers
Nursing home negligence
Failure to prevent suicide and other psychiatric matters
Ken has successfully tried and won Medical Malpractice, Products Liability and Motor Vehicle Accident cases resulting in multi-million dollar client awards. He has won significant surgical burn cases and garnered the largest jury verdicts ever in multiple counties.
Ken is extremely proud of his superior 'A-V' rating, in Martindale Hubbell's prestigious national listings of attorneys. He is consistently listed as a Top Attorney in both Maryland and DC.
Ken has given numerous highly acclaimed seminars and lectures to noted organizations, including the International Association of Fire Fighters' Unions; the Fraternal Orders of Police, municipal and county organizations, including Fire, Police and Sheriffs' departments throughout the state of Maryland, DC and Virginia as well as a variety of Public safety groups. In 2014, Ken was the keynote speaker at the Maryland Workers' Compensation Educational Association Conference celebrating 100 years of the Workers' Compensation Act in the state. Ken has lectured extensively to the vocational rehabilitation organizations.
Area of Practice
Workers' Compensation
Personal Injury
Medical Malpractice
Bar and Court Admissions
Maryland State Bar Association
Maryland Court of Appeals
District of Columbia Bar
United State Court of Appeals
United States Supreme Court
Education
University of Rochester, BA (cum laude)
George Washington University, JD
Associations