Jaclyne Kartley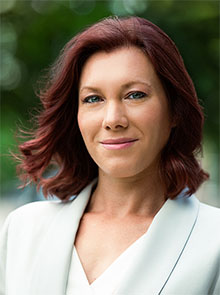 Associate
About Jaclyne
Jaclyne is a second generation Serbian American. When not working, Jaclyne enjoys spending time with her son, weight lifting, and learning and practicing the Serbian language. Jaclyne also enjoys playing cello, piano, and guitar.
Professional Experience
Jaclyne is a licensed attorney in Maryland, focusing her practice on personal injury, such as car accident attorney, slip and falls, and injuries caused by the negligence of others.
Jaclyne started as a personal injury paralegal at Berman | Sobin | Gross LLP in 2012. She became so passionate about assisting the injured, in 2014, she left the firm to attend law school to be able to represent the injured. During law school, Jaclyne focused her studies and research on personal injury, insurance, and negotiations, and she returned to the firm as a law clerk in 2017, after graduating law school.
Today, Jaclyne zealously represents the injured throughout the state of Maryland. Having worked as a paralegal and law clerk prior to becoming an attorney, Jaclyne offers a unique perspective and insight to her clients. Her distinctive blend of legal experience and insurance knowledge set her apart from other personal injury attorneys.
At an initial consultation, Jaclyne sits down with her perspective clients and takes time to discuss their particular situation, explains the law, and ensures that her clients understand the process of their case. From day one, Jaclyne gives her clients individualized attention and believes that every client deserves the highest quality representation.
Areas of Practice
Bar and Court Admissions
Maryland
United States District Court for the District of Maryland
Education
Juris Doctorate from Widener University Commonwealth Law School, in Harrisburg, Pennsylvania
B.S. in Legal Studies from Kaplan University
A.A. in Paralegal Studies from Hagerstown Community College
Associations
Serbian Bar Association of America
Montgomery County Bar Association